One of my favorite stories ever is the story of Bilbo and Frodo Baggins from the Lord of the Rings
trilogy.  They are humble hobbits, living contentedly in their hobbit holes.Hobbits are very modest and orderly people, abiding by a set routine, and very much into the status quo.  It's no wonder that when Gandalf the Wizard interrupts their quiet routine and sells them on a grand adventure to save the world from the power of the ring, that they are taken quite aback.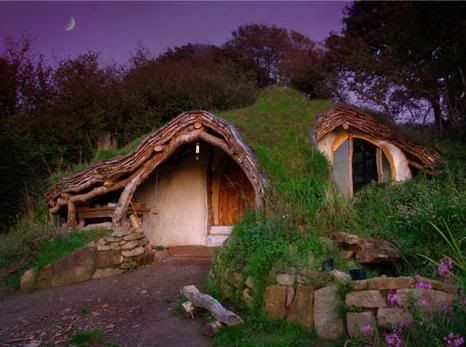 Nevertheless, first Bilbo, then Frodo, embark on an adventure with little certainty, little security, and a whole load of discomfort!
jamejones 1000 on photobucket
I remember, in my 20's, saying to myself that I did not want to live an ordinary life.
Now, I have passed the 40's threshold:  I have children, I have the house in the burbs, I have my job/s.  Sometimes, I feel like a comfortable hobbit living comfortable life in his hobbit hole.
Yet, deep within me, is the yearning for the Adventure.  It's too often that I forget that humans are destined to be part of a great Adventure, to live life beyond the ordinary, to embark on a Journey that will change their character for the better, and that will make the world a better place.
So, if you want to change the world, read on!
I've been thinking, reading, and writing a lot about identifying and discovering one's personal mission in life.
This personal mission answers question such as,
"Who am I?"
"Why am I here?"
"What is the meaning of it all?"
"What is my purpose?"
In fact, one of my favorite songs, sung by Michael W. Smith, summarizes our yearning for our personal mission in life:
One of my favorite authors, Richard Nelson Bolles, has written a couple of books in the career counseling field.  The first is called What Color Is Your Parachute? 2011: A Practical Manual for Job-Hunters and Career-Changers
Business Skills Books)
I believe that the second book came out of an appendix in the back of What Color is Your Parachute.
I resonate with Mr. Bolles' writings because I write from a Christian world view, and much of this post is a summary of his writing on this topic of finding our personal mission in life.
So, what is our mission in life?
According to Webster's Dictionary, a mission is "a continuing task or responsibility that one is destined or fitted to do or specially called upon to undertake."
According to Mr. Bolles, there are three stages of personal mission.
The first stage of our personal mission, no matter who we are, is one that we share with the rest of the human race.  It has to do with being versus doing.  And it has todo with knowing, worshiping, and living with Our Creator, the One who made us.
In a few words, the first stage of our personal mission in life is to stand, hour by hour, in the conscious presence of God, and in the words of many Christian traditions, "to know God and enjoy Him forever, and to see His hand in all His works."
Knowing Who created us, and standing in right relationship with Him is part of living life to the fullest!
2.  The second stage of our personal mission here on earth is as follows: to do what you can, moment by moment, day by day, step by step, to make this world a better place, following the leading and guidance of God's Spirit within you and around you.
In stage 2, doing comes out of being.
Again, this part of our mission is shared with all human beings.  We want to spread more gratitude, more kindness, and more forgiveness to each person around us.  Just as a stone thrown into a pond does not always know where it's ripples will extend, and what those ripples will touch, so you and I do not know how our random acts of kindness may profoundly change a person's life around us for the better!
It is in the ordinary, day to day moments, that some of our most powerful acts will be performed, if we are living out this part of our mission.
3  Once we have understood, committed to, and are practicing Stages One and Two of our personal mission, we come to the third stage of our personal mission here on earth.
The third stage of your mission, unlike the first two stages, is uniquely yours and uniquely mine.
In this third stage, your personal mission is as follows:
a) to exercise that Talent that you particularly came to Earth to use–your greatest gift, which you most delight to use
b) in the place/s or setting/s that God has caused to appeal to you the most
c) and for the purposes that God most needs to have done in the world
Frederick Buechner, a pastor, author, and theologian summarizes this intersection of Wishful Thinking –A Theological ABC
:
There are all different kinds of voices calling you to all different kinds of work, and the problem is to find out which is the voice of God rather than that of society, say, or the supergo, or self-interest.  By and large, a good rule for finding out is this: the kind of work God usually calls you to is the kind of work a) that you need most to do and b) the world most needs to have done.  If you really get a kick out of your work, you've presumably met requirement a), but if your work is writing TV deodorant commercials, the chances are you've missed requirement b).  On the other hand, if your work is being a doctor in a leper colongy, you have probably met b), but if most of the time you're bored and depressed by it, the chances are you haven't only bypassed a) but probably arent' helping your patients much either.  Neither the hair shirt nor the soft birth will do.  The place God calls you to is the place where your deep gladness and the world's deep hunger meet.
Going back to the story of Bilbo and Frodo Baggins:
They may have gotten very comfortable with the first two stages of their mission, which could have been lived out in the comfort of their Hobbit Hole.
But, then Gandalf came, called them to an Adventure, and they said Yes, and their lives were never again the same.  I believe that you and I each yearn to do that which we were created to do, and to be that which our Creator made us to be.  Sometimes, it may be as simple as meditating and praying, or performing an act of kindness.
But it will also require some self-exploration, some goal setting, and casting a vision that's bigger than your current circumstances and possibly self-limiting patterns of thinking.  There is work out there that the world is hungry to receive, and that you are eager to perform.  It's up to you to find it!
And that will the the subject of a future post!
Like What You're Reading? Sign Up For More!